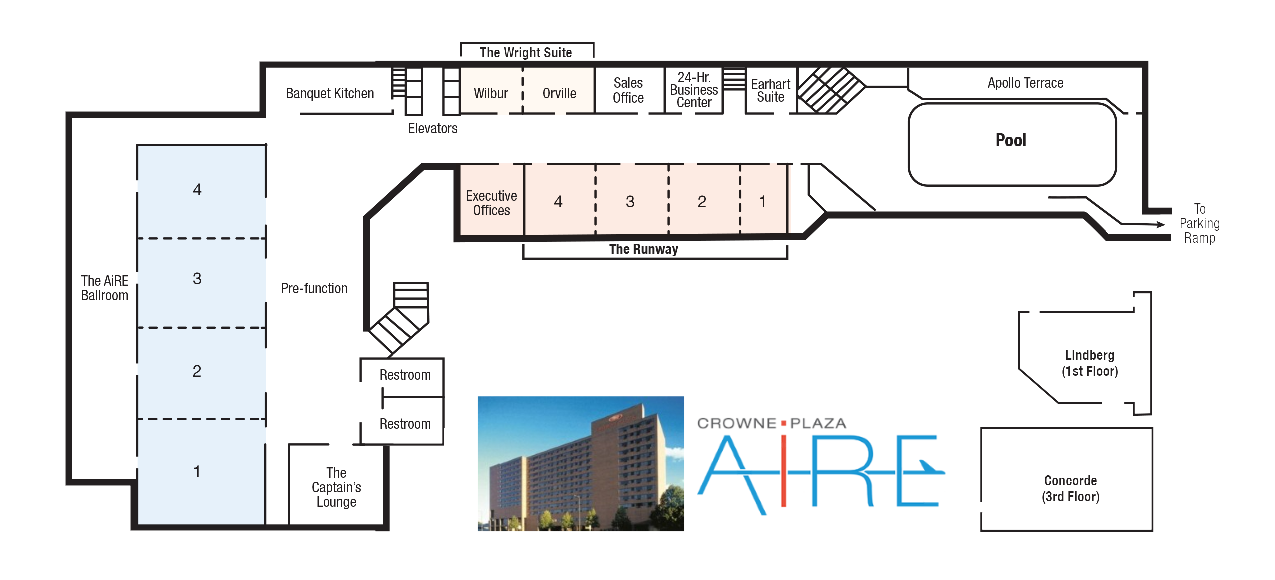 Click on map for larger version
Conference Hotel: Crowne Plaza Aire, Bloomington, MN
Please join us at the Crowne Plaza Aire for the Midwest Journalism Conference. We've held the conference here for more than 15 years because of the excellent facilities and the fantastic hotel staff.


To make your reservations for the conference, just click on this link, enter your arrival and departure dates, then click "Book." You may also make your reservation by phone at 877-227-6963. Be sure to use the reference group code: MJC or Midwest Journalism Conference so we get credit for your stay.
If you have special requests such as a double suite, early arrival, late departure, a roll-in shower or anything else not shown as a choice in the online reservation system, you can contact the hotel's in-house group reservation specialist at 952-876-8707 or email info@crowneplazaaire.com
The Midwest Journalism Conference is held at the Crowne Plaza Aire, located at the intersection of 34th Avenue South and American Boulevard in Bloomington, Minnesota. The hotel is ten blocks east of Mall of America and just one block south of Exit 1A/1B on Interstate 494, next to the airport.
PLEASE NOTE – There are TWO hotels with similar names in Bloomington:
You're looking for the Crowne Plaza Aire (formerly the Holiday Inn Select) on American Boulevard East at 34th Avenue South in Bloomington near the light rail crossing. It lists its address as 3 Appletree Square. Its website is crowneplazaaire.com It sometimes appears on web listings as Crowne Plaza Suites MSP Airport – Mall of America.


It is NOT the Crowne Plaza Bloomington (formerly called the Crowne Plaza MSP West) seven miles to the west at 5401 Green Valley Drive in Bloomington. Confusingly, it sometimes shows up in Google searches as the "Crowne Plaza Bloomington MSP Airport / MOA," or "Crowne Plaza MSP West," even though it is further away from both the airport and the Mall of America than our hotel. Its website is cpmsp.com.
Believe it or not, for a few years there were three hotels with almost exactly the same name within ten miles of each other,  but one of them in Eagan rebranded as a Holiday Inn in 2013. The other two spent years in negotiations to come up with names to better distinguish each other and avoid confusion.

You can make your reservations online HERE. If you'd rather make your reservations by phone, you can call 877-227-6963. Please mention MJC.  And remember, when you stay at the conference hotel you also get a discount on your conference registration, so you'll be saving money!
A word about Mapquest and some GPS units
If you're using Mapquest or a GPS unit in your vehicle, we strongly recommend that you use the address 3441 American Boulevard, Bloomington, MN to find the driveway to the hotel, rather than typing in the name Crowne Plaza, because Mapquest will get mixed up. The hotel's mailing address is 3 Appletree Square, which sounds nice but gives no indication of its location on some GPS units.

Here is the location on Google Maps: